Monday, August 16th, 2021 at 3:43pm
This horse excites me..
#dressage #rider #trainer #horse #dressagehorse https://t.co/7Lt43bXA6B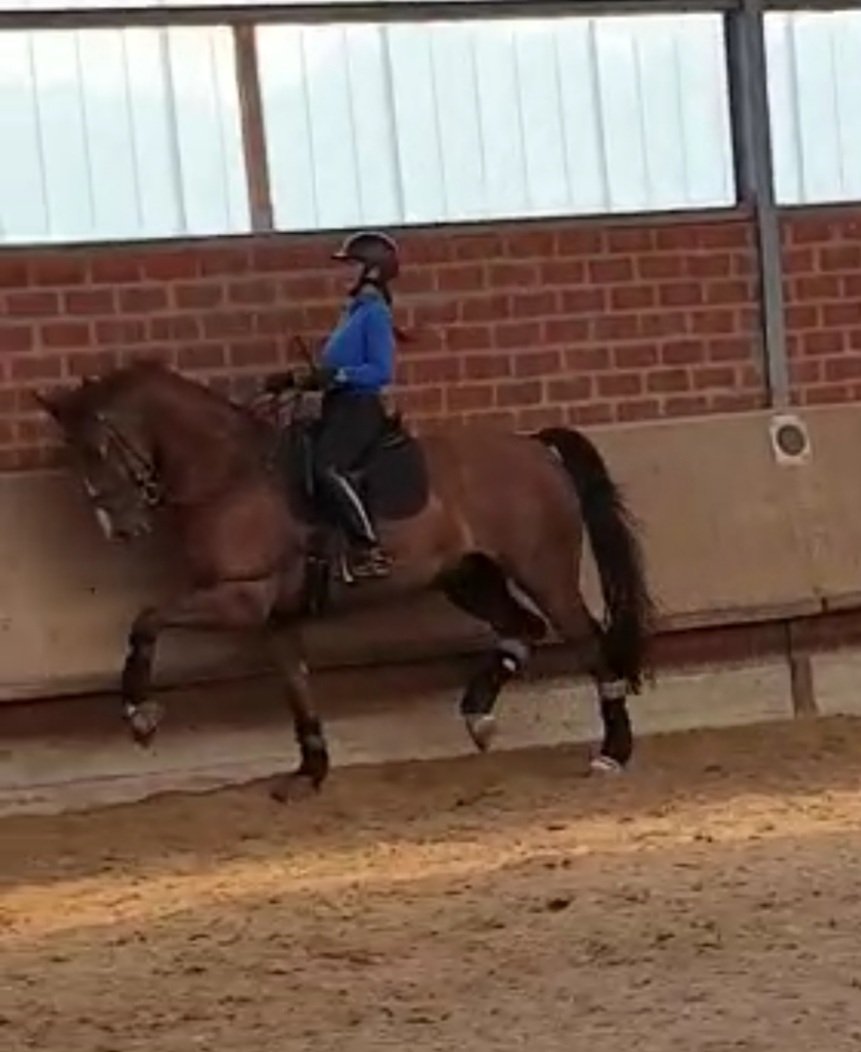 Joanna began riding in London at the age of 3 years old, it was a passion from a very early age!
She trained with Peter Robeson, with her pony from the age of 12yrs, an Olympic show-jumper and world class horseman who passed on his great understanding of how horses think.
In 1992 she moved to Holland to train with Bert Rutten the Olympic Dressage Rider and trainer where she stayed for 3 years, with her 3 just broken horses, competing in the Prix St George Dutch National Championships in 1994.
In 1995 she was accepted to train with Rudulf Zeilinger, the classically trained master. Joanna was shortlisted for the 1996 Olympics. She stayed in Germany training and competing and running her own stables for 16 years. Shortlisted for the 2004 Olympics and winning Gold Medal Nations Cup 2004, Steinhagen CDN GrandPrix Special winner, and 9 further top 4 placing at GrandPrix and GrandPrix Special, on her mare Coco Chanel. Class 1 Rider in GB
List 1 Rider in Germany.
Trainer of international gold medal Pony and Young Rider show jumping and Eventing Team riders.
Joanna still rides and trains daily…..
As you can imagine…
During her many years consisting of long days in the stables she witnessed her horses do so many funny things….!
Horses are creatures with tremendous characters, they know no malice, they are loyal and curious and kind in nature.
This gave her the perfect ingredients to collect all these wonderful memories and create 6 of the funniest children's bed time stories, told purely from the horses perspective, of everyday occurrences.
She got in contact with Eric Heyman, a superb illustrator who worked phenomenally hard to capture the horses characters and expressions, as these were real horses, Joanna's horses, who deserved to be kept in memory forever in ink. The pictures are a work of art and complete the stories perfectly.
Each story delivers facts about the horses strong individual personalities (that all horse lovers know exist)! Ending with a perfect moral for children to learn and think about.
The following Series of Stable Gossip- Just Horsing Around, consists of new character's, Chief, Einstein and Finley. These boys join Flo and Rumbo to create the ultimate team and have tremendous discussions and debates along with exciting situations.
The third series titled Stable Gossip- Horses for Courses, sees the same characters as book two but with a slight twist… evolution is taking place!
The stable Gossip Series are sure to lighten up your day whether you're into showjumping or Dressage!
Aimed for children between the age of 4yrs – 14yrs, it will have everyone in fits of giggles,
with the main character Nosey controlling the scenes.